Wow, page one updates..... Here is now a bit of an index to things learnt over the course of a year or so, lots of discussions, attempts and failures.
I won't change the topic name, since we've become familiar with it, and links might fail from elsewhere. Where did we go?
Here is some links to perhaps interesting topics/short cuts during the life of this thread. (And we are not finished yet!) Some poor folks get directed to this thread and might get lost.
It somehow turned into a blog and often gets off topic. Thanks Dal for putting up with it!!
1.
ROM mounted TOS/IDE board PCB
2.
ROM mounted TOS/IDE board PCB with 2 TOS choices (hi/lo to A18) and programming support
3.
First view of HD FDD pcb
4.
How to install a 2.5" HDD under the FDD.
5.
Modified 'Autoswitch' Overclock pcb developed.
6.
Pic of a functional 'TomK' PS2 mouse adapter.
7.
Mod a Sony MPF920 FDD for ST & HD use.
And further down a complete 'kit'
8.
First shot of functional Lascan screen.
And below it, the 72pin RAM / 16Mhz pcb almost built.
9.
How to disable original 68000 cpu
Assuming you want to turn it off and mount a better or faster one......
10.
First draft IDE/TOS/OC cpu mounted board
11.
Experimental HighSpeed ROM function result
12.
A look at the simplest TOS ROM mounting board.
Sister board to the IDE/TOS adapter.
13
How the Atari looked with everything installed.
14.
Amazing it actually works (old vid)
15.
Bytes to change for 6ms HD FDD in TOS
16.
Fit an easy Dallas RTC to your ST- support software found & Y2k ready.
update, our own member 'Spiny' tried one....
http://www.atari-forum.com/viewtopic.ph ... 50#p201305
... result, Perfect. Woot!
17.
Connect a MegaST keyboard to the internal ST socket
18.
Finally, a proper CPU mounted IDE/TOS controller.
Prototype one, Working well for now. Need to build the companion TOS ROM mounting board for flashable multiTOS support again.
There is lots more stuff hidden among the pages, find your time and sift through it. I thought I'd make it simpler to get the good gear from page one.
This thread is heavily loaded with off topic talk, and at times contains fault finding for other members with similar hardware. I know I have sold a few kits of 'these' mods-
but the aim is only to generally document somewhat the kind of crap that happens while trying to do things yourself. (Including the blow ups!)
Nothing shown here is designed by me- but actually stuff you can find on some excellent sites that hold archives of old and useful modifcations created worldwide.
Mind you, I have altered some code or circuit details occasionally when it is required.
I seriously enjoy
building
circuits, and validating for myself and others- that there is some damn cool DIY stuff we can build for our Atari computers, that WORK!
Always, If you haven't noticed, I try to credit the original Author/Creator for their work. I'd prefer to build a hopefully proven existing design, than 're-invent the wheel'.
And often drivers or software is/are already written that we can use or modify to make it all happen.
If I went to commercial scale on any project I thought needed re-releasing... The original designer/author would be contacted if possible- and updates or renumeration would take place.
But basically I'm not interested- on this scale, why would you bother. Try it yourself. I might make an extra or two of something.. but that is it.
Live and learn right?
How fun is that!... (Somehow my only single working Atari puts up with all this nonsense, and continues to run.. even if some nights I go to bed thinking "I killed it this time".)
........
Now back to the original topic starting post....
,
Hi All, New member- old time Atari ST user.
My dad bought our first ST when I was 13. I am now 33!
This is rather modifed. Firstly after a couple years, the main board was changed to non surface mounted mmu/glu chips- for various reasons. (The current board is a obvious '520STFM' origin)
Since then it has had- An AT_Speed C16 286 emulator, 2 + 2mb memory upgrade (2x 1mb hardwired 30pin simms most recently, plus a video shifter mounted 2mb kit from years ago, an added 'blitter' chip, Elco high density modual + drive, previously fitted overscan- now removed (long story), TOS 1.4 retro fitted (orig 1.09), and a Compo UK switchable TOS 2.6 rom kit. Cartridge mounted clock and debug widgit.. And a Megafile 30 purchased when new and expensive...but now mostly dead- mostly- because it will take a format for a day of around 8mb, and fail the next day. Only runs when warm.
I will consider making an IDE pcb oneday. Also the DMA, Floppy & Video shifter chips are socketed. And it now runs on an external PSU- for internal space.
It runs (now) on a LG 19" LCD through mono mode- using a cable I once made for a NEC Multisync 3d. Altered now for a 15pin vga connecter instead of the NECs 9pin plug. My old SC1224 monitor only died last week. (Maybe I look at fixing that later)
Heres a pic as it sits on the bench last week.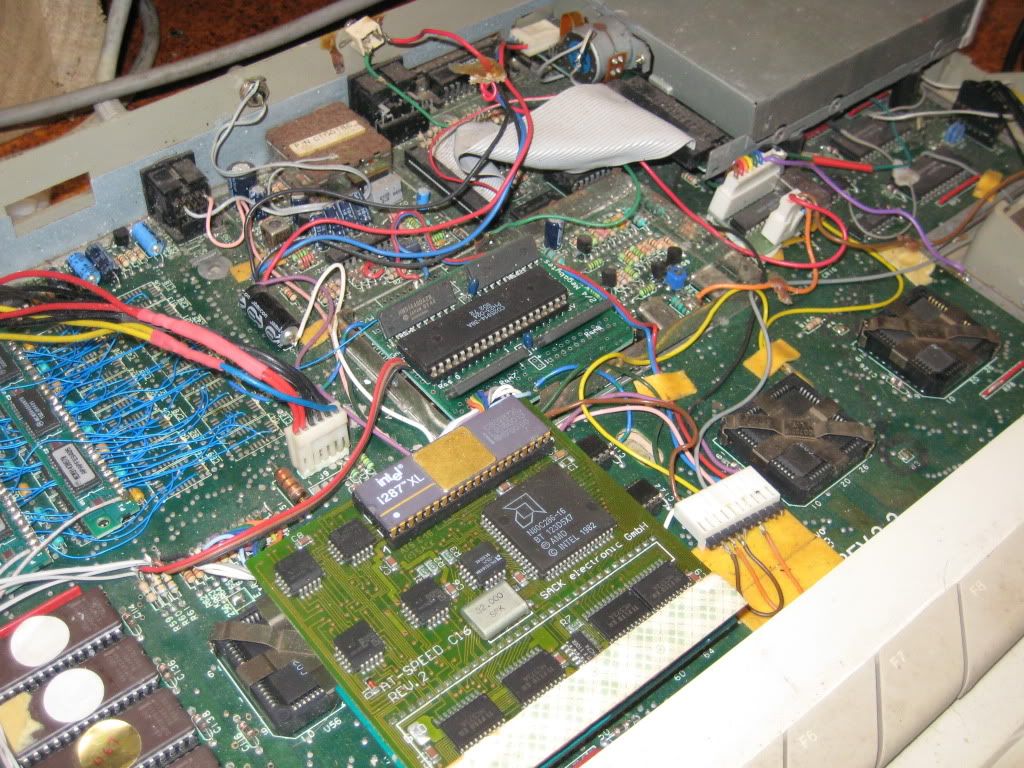 Mind the wiring, I was 15/16 when most of this went in...!
Most of this stuff has always worked. Some things have been a problem since new. Namely TOS 2.6, and lately the HD kit.
To explain.
1. The HD kit was okay- but since changing the FDD to a different one- it doesn't like HD mode anymore, I suspect its the drive not sensing correctly- but I am currently not that concerned. I've actually wired a bypass switch to let it run 'unmodified', and the drive is functional for normal 720k disks.
We'll tackle this problem later. Plus the ajax chip actually made it more unreliable than the old WD1772. I'll explain more later.
2. The overscan kit was removed due to strange horizontal screen shaking during FDD access. Like over 1" side to side. Ultimately turned out to be a glitch in the GLU chip solved by fitting a different part number one. But not before the overscan was sold- but I borrowed one for testing my idea. I was right- but now only the harness remains- with a bypass dil strip plugged in to reenable the cut tracks.
3. The C16 is playing up- it just will not read command.com on any boot discs anymore. Dunno why. Fix that later hopefully. Tested with PCditto, the discs are ok. Was ok b4 the 4meg upgrade... More testing required. Disable ram, remove 287 again....etc.
4. The TOS 2.6 is the
MAJOR
problem. And has been since day one- probably since the mid 90s. And almost never used!!!! I want to fix it now- armed with new information.
Here is the fault. (ps You can't actually see the 'kit', but its under the C16. Its cpu mounted type kit.) It has a software switchable program or accessory you run, and it reboots into 2.6. Ok so far. Everything looks normal- menus etc, you can run STinfo, and get reported the new TOS...etc
BUT, when writing to a floppy or a hdd- it corrupts file names! Randomly. Alway has. Hence why it was never actually used.
I originally though perhaps all the upgrades was causing the PSU to suffer. Okay... but after using an external ATX powersupply for some time- the problem persists!.. okay cross that theory out.
You might think the RAM upgrades are playing up- but the simms were installed long after 2.6 showed original signs of this fault.
You might think the C16 on top is causing interferance- nope removed that- still there.
High Density upgrade... maybe- but it can be bypassed back to 8mhz. And I 'think' the fault was there before the ajax was fitted too.
I now believe- after reading this board- that
perhaps
a 74ls74 might need to be fitted to the cpu- mega ST style. After all a blitter has been added.
Tonight I have been confirming the fault exists- copying some floppies to ram disk and back.
Using TOS 1.4, blitter on / off no fault.
Under TOS 2.6 Blitter ON, corrupted file names. eg, 'atari.prg' VS ' __ari.prg' - not when going to the ram disk- only back to fdd/hdd.
Now TOS 2.6 Blitter OFF, Seems improved. (Never actually tried this), less lower case letters.
I have a 74LS74AP sitting in my junk box, and ppero's diagram of the mega st fitment. I just need to trace where the BGACK wire leaves the blitter to the cpu- CUT the trace? , and wire in the chip. MAYBE this will help. IDEAS?!
Also the AT_SPEED instructions say to put a 220ohm resister between pin 1 of this chip and pin 12 (BGACK?) of the cpu- after relocating it for space above the cpu. Interesting....? but why? seems like a
bypass
to me.....
I've also noticed- the MEGAFILE 30 PSU is nearly identical to the STs, but is double the AMPS rating on the 12v rail. Easy to retrofit!, just use the old base bracket.
Thanks for reading this, I hope someone can provide some insight....
Sean