I mentioned this briefly in exxos's speed booster thread but I am trying to repair an old STm I bought off eBay a couple of years ago.
The machine had obviously been in the attic for a long time and the power connector and modulator where heavily rusted, so I can removed them and connected it to an ATX psu to see if It would boot. It didn't (I had it hooked up to a mono monitor), so I left it and used the motherboard for demonstration purposes in lectures (and the occasional appearance on the YouTube channel Computerphile).
However, I decided to try again to get the machine working the other day and so hooked up a logic analyzer over the CPU. To my surprise, the machine was attempting to boot fine -- I could see the CPU access ROM and get the start address etc., and by analysing the shifter even set the palette. I also noticed that HSYNC stayed around 15kHz -- which explained why I wasn't seeing anything on the mono monitor.
I could also see some Bus errors firing (normal during TOS boot) but then the CPU asserted HALT and the machine freezes (presumably early enough that the computer isn't moved into hi-res).
Hooking up a colour monitor, I get this pattern pretty much repeatably on screen eventually (occasionally there might be a variation in lower part as if the image was shifted if I reset and it starts on a green and purple screen from a power on -- although not an immediate power-on).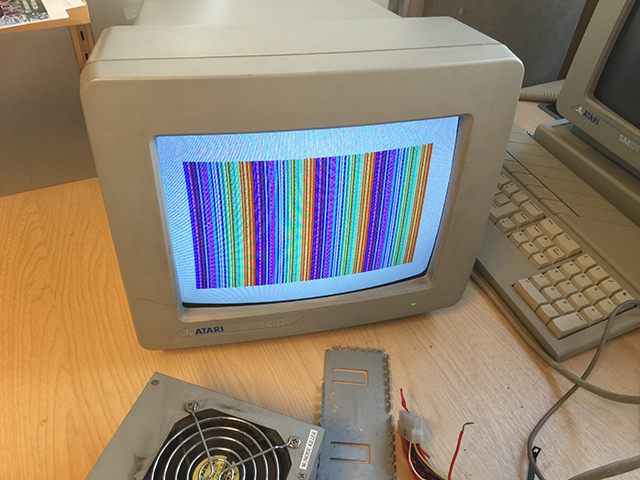 I'm wondering if this is a RAM problem. I've ruled out the ROMs and SHIFTER by switching them into a good STm where they work fine and will do the same with the MMU and GLUE when my PLCC extractor arrives (i've already reseated them to no effect).
I guess I ought to obtain a diagnostic cart as well and see if that reveals anything.
Grateful for any advice, but I'll also update this with any progress.
Steve