Hi I was totally amazed to come across a version of Band In A Box on Ebay which I quickly bought ,and not just any old Band In A BOX but one for the ST Atari and this was a caption of what it read very best wishes Brian.
Style-generation software Band-In-A-Box is one of many still-thriving music programs that started life on the Atari. These days, it's very much at home in the latest Mac- and PC-based studios, as Vic Lennard and Martin Walker discover.
Way back in August 1991, I concluded that the original Atari ST version of the Band-In-A-Box auto-accompaniment program was "cheaper than almost any ST sequencer but with facilities belying the price" in a review appearing in the now-defunct ST Format. It offered three-part accompaniment, the facility to enter lyrics, a print-out capability and MIDI File compatibility, along with incredible ease of use.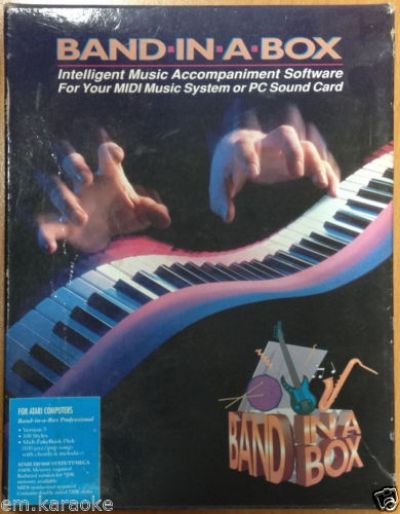 I already own BB for the pc so know how useful it is for composing songs so this should be what I am looking for if it will work ok with my Atari STE with 4mb of ram so heres hoping Brian.