Hiya
Again not Atari related but techie folk hide here and I am after a second opinion on something. Recently picked up a Yamaha CX5M "music computer" as they were originally called, its an MSX machine at heart with the guts of Yamahas DX7 synth built in. Aside from the built in ROM software I have not managed to get a single thing to load on it. Popped the lid today and I may have found out why.
It originally came with 48K of RAM, the 1st bank is eight 2KB chips, the second bank is four 8KB chips. Both banks are original, but someone has been fiddling. They have cut pin 1 on all 4 of the 8KB chips and wired them together, this they have connected to a 2 way switch on the rear of the machine, flipping the switch will take pin 1on all 4 chips to either logic low or logic high, there is a current limiting resistor in the right place on the switch thankfully. Pin 1 happens to be the Output Enable (called G on the datasheet for some reason).
Datasheet:-
http://www.datasheetcatalog.org/datashe ... 357_DS.pdf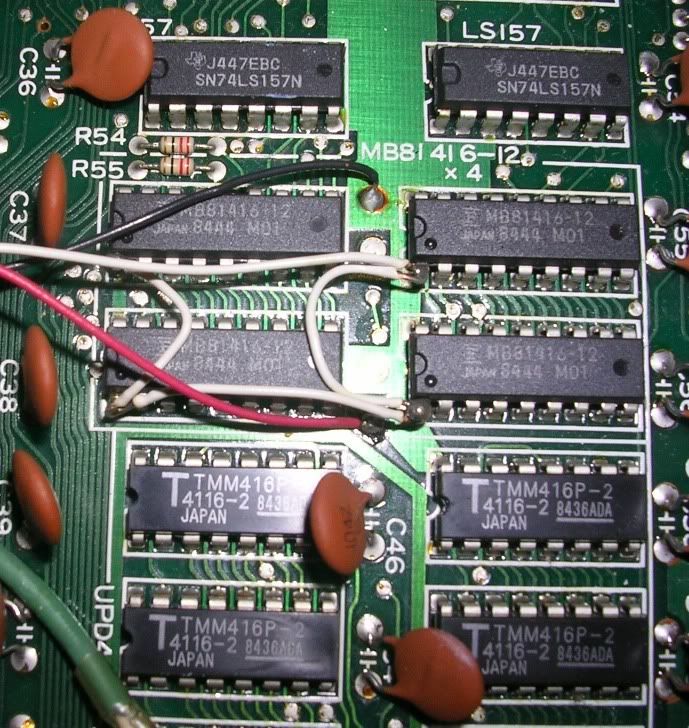 My question is - why on earth would anyone do this, surely OE needs to be controlled by the system itself, the ability to manually turn this on and off seems a rather pointless one. A bit like wiring a toggle switch to your dashboard so only you can control when the spark plugs fire. The mod has been very neatly done, and the current limiting resistor suggests it was done by someone who knew what they were doing, but what use is it?
There is also a reset button mounted on the front of the system, so am beginning to suspect this was used for some hardware development at some point, some project where the ability to precisely control most of the RAM would have been some use, presumably some cartridge or peripheral development scheme. The unit has quite a low serial, 1911 in fact, then again am not sure these ever took the world by storm so maybe that's not as low as it would be where it from an ST or a speccy.
Can anyone shed any light, agree/disagree with my conclusions about what this mod does?
As it stands I am pretty sure I have a 16KB system with 32KB sitting there comatose. It was neatly done and is very easily undone, am just a bit baffled as to the reasoning behind it.