Version 03/07/2017
:
http://www.mirari.fr/nwaL

,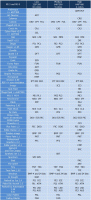 ,
PAL 16 words (Hard system)
FAD 16 palettes of 16 word (Hard system) saved only.
Degas To be compatible with more program, the color cycles are not saved automatically. If the image does not contain it, it is created one of four cycle at the stop.
Plus Paint 32034 bytes identical Degas
Canvas CNV must be open in the resolution of the image, otherwise the color will not be okay.
BMP Only in three resolution of size and colors of the ST.
Bmp id still in basic, so not very fast.
Do not save : CL0-2, FUL, ICE, ESM, PL1-2, SPC, SPU