Hi,
I want to load an uncompressed 640x480x256c prismpaint .PNT file on a Falcon030.
I made the PNT loader years ago and for 16 colors it worked ok. And after switching from the desktop to 256 colors I could load a 256color pnt.
Now I learned something new: the program switches video mode to 640x480x256c and at the end goes back to the video mode where it started.
(many thanks to the Simon Sunnyboy listing of simple 256 color demo)
When switching from 16 to 256 colors you cant use setcolor from the VDI because it still thinks we are in 16 colors right?
So we use Xbios 94 or just fill the palette registers at &HFFFF9800 as in this example.
Whatever I try there are some colors not right. Not only in this test picture.
Prism Paint and Imagecopy show the pictures right.
What am I doing wrong?
PNT256F.GFA: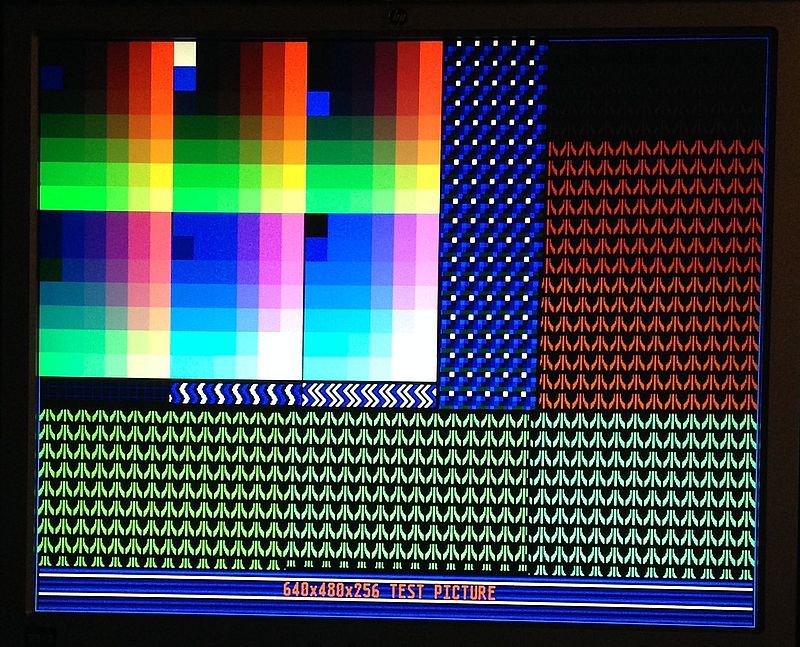 Prism Paint: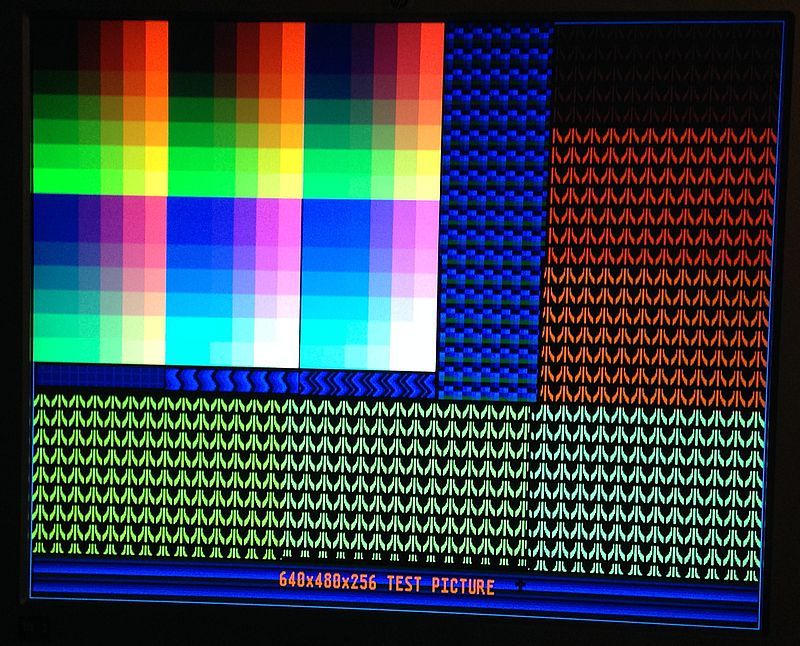 Code: Select all
' Prismpaint 256 kleuren 640x480 plaatje laden
' by mjvans
' WARNING FALCON only video mode switching!!
' Falcon video info: STcomputer 5/1993 p84
'
'
'
err!=FALSE
ON ERROR GOSUB error_handler
ON BREAK GOSUB endit
'
RESERVE 50000
FILESELECT "\*.PNT","",filenaam$
IF filenaam$>""
INLINE palette%,1024
super%=GEMDOS(32,L:0) ! go SUPERVISOR
resol&=XBIOS(88,W:-1) ! save old resolution
old_phys%=XBIOS(2) ! save old screen
buffer%=MALLOC(308224) ! 640x480 + palette 1024
monitor%=XBIOS(89) ! what sort of display?
image%=buffer%+1024
IF monitor%=2
vga!=TRUE
rgb!=FALSE
~XBIOS(5,L:image%,L:image%,W:3,W:&X111011) ! switch to VGA: 640x480 256c.
yoffset%=20
ELSE
rgb!=TRUE
vga!=FALSE
~XBIOS(5,L:image%,L:image%,W:3,W:&X10010111) ! RGB/TV: 640x400 256c.
yoffset%=0
ENDIF
BMOVE &HFFFF9800,palette%,1024
OUT 4,18 ! wat is dit?
'
prismpaint(filenaam$) ! laad plaatje
~INP(2)
einde
'
ELSE
' nothing selected program end
ENDIF
' ********************* EINDE **********
' cant use VDI setcolor after change video mode
PROCEDURE vdi_setcolor(index&,r&,g&,b&)
CONTRL(0)=14 ! PROFIBUCH p225
CONTRL(1)=FALSE
CONTRL(3)=4
CONTRL(6)=V~H
INTIN(0)=index&
INTIN(1)=r&
INTIN(2)=g&
INTIN(3)=b&
VDISYS
RETURN
'
' set_color by Simon Sunnyboy
' put colors directly in the registers
'
PROCEDURE set_color(tel&,ro&,gr&,bl&)
LOCAL ro$,gr$,bl$
ro$=STRING$(2-LEN(HEX$(ro&)),"0")+HEX$(ro&) ! red
gr$=STRING$(2-LEN(HEX$(gr&)),"0")+HEX$(gr&) ! green
bl$=STRING$(2-LEN(HEX$(bl&)),"0")+HEX$(bl&) ! blue
{ADD(&HFFFF9800,MUL(tel&,4))}=VAL("&h"+ro$+gr$+"00"+bl$) ! set the Falcon color reg
RETURN
PROCEDURE einde
BMOVE palette%,&HFFFF9800,1024
~GEMDOS(32,L:super%) ! back to USER MODER
~XBIOS(5,L:old_phys%,L:old_phys%,3,resol&) ! restore old screen
~MFREE(buffer%) ! free memory
RESERVE
OUT 4,8
IF ERR!=TRUE
~FORM_ALERT(1,ERR$(ERR))
ENDIF
EDIT
RETURN
PROCEDURE error_handler
err!=TRUE
endit
RETURN
PROCEDURE prismpaint(naam$)
LOCAL r&,g&,b&,k&,t&,beeldblok%
rez%=MALLOC(128)
palet%=MALLOC(1536)
IF LEN(naam$)=0
END
ENDIF
OPEN "R",#n,naam$
BGET #n,rez%,128 ! header 128 bytes
k&=DPEEK(rez%+6) ! AANTAL KLEUREN
IF k&=16 !
r&=96 ! 16 kleuren 3x16x2 bytes voor palet
beeldblok%=153600
ELSE
k&=256 ! 256 kleuren
r&=1536 ! 3x256x2 bytes palet
beeldblok%=307200
ENDIF
BGET #n,palet%,r& ! palet in vdi mode waardes 0-1000
tel%=0
FOR t&=0 TO (k&-1)
' r&=ROUND(DPEEK(palet%+tel%)/1000*15) ! 16c palet vdi waardes 0 - 1000
' g&=ROUND(DPEEK(palet%+tel%+2)/1000*15) ! converteren naar 0 - 15
' b&=ROUND(DPEEK(palet%+tel%+4)/1000*15) ! ignore this for now this is for 16c
' VSETCOLOR t&,256*b&+16*g&+r& ! VDI
r&=ROUND(DPEEK(palet%+tel%)/1000*252) ! 256c palet vdi waardes 0 - 1000
g&=ROUND(DPEEK(palet%+tel%+2)/1000*252) ! converteren naar 0 - 252
b&=ROUND(DPEEK(palet%+tel%+4)/1000*252)
set_color(t&,r&,g&,b&)
tel%=tel%+6
NEXT t&
BGET #n,XBIOS(2),beeldblok%
CLOSE #n
a%=MFREE(rez%)
a%=MFREE(palet%)
RETURN