Hello @ll,
I found a copy of Realtizer.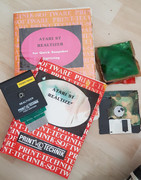 The problem is that the filters transpired a greasy and odorous substance (petrol?) on the floppy disk that melted.
So my disk is dead.
Does anyone have a copy of the original disk ?
I didn't find anything on google and nothing on Atarimania either.
Help Me, Obi-Wan Kenobi. You're My Only Hope