Hello.
I try several methods to format my IDE hdd for my atari STf.
Using windows 10, windows XP to create 512mb FAT16 principal partition.
Trying to make one or two logical fat16 partiton max of 1000mb.
My driver BIGDOS.PRG and IDE_7.PRG found the partitons, and sometimes not.
I use usb to ide, and internal ide of pc for partitioning, without success.
The only way i found is to drimg135 for copy a 1gb image from PP.
http://atari.8bitchip.info/DiskImgPP1.html
I never found this software too.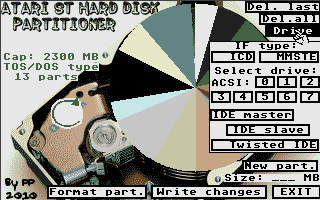 When i use drimg, and send software on hdd prepared, sometime is become unreadable :/
The os show correct letter, but can't open the partition.
IS a simpy way to create partition ?
Thanks by advance, o'm totally disapointed